a31chris wrote:
You can't tell if GamePro was being on the up and up or not. They favored the PSX over everything Hated the Jaguar no matter what until it was gone. Then when it was gone they hated almost everything about the Saturn.

I would take their journalistic integrity with a grain of salt. I read the YT viewers comments to get a nice varied slice of what it thought. It seems fondly remembered.
I'm quite confident than any bias on GamePro's part is strictly in your head. In the same issue in which they review 3DO Creature Shock, every Saturn game covered got an enthusiastically positive review - even the Saturn version of Earthworm Jim 2. Seriously. And here's a randomly selected Jaguar piece from their February 1996 issue: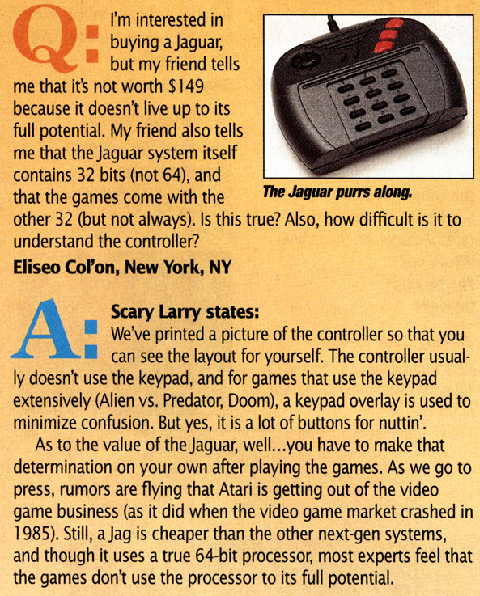 That hardly sounds like "Hated the Jaguar no matter what until it was gone", especially when you consider that this was just a few months before the Jaguar went under.
In general, I've found GamePro to be quite neutral and objective in both their critiquing and reporting. Moreover, their integrity is entirely besides the point. GamePro were one of the most popular and respected gaming magazines of the time, and if you don't believe that, just take a look at who's quoted on the cover of The Horde. Whether or not you like GamePro's reviews, they were what gamers were reading at the time Creature Shock came out.
I certainly wouldn't trust YouTube viewers comments. People's memories of how games were regarded are almost always badly skewed and tinted by their own opinions. Gamers who like a game tend to remember it as being critically acclaimed, and gamers who hate a game tend to remember it as being panned. Add in that you're looking at
YouTube
comments, and the unreliability increases tenfold. If you want to know what a game's reputation was, the actual pro reviews are the place to look.
I strongly suspect that your above post was entirely in jest, but unfortunately one really can't assume anything on the internet is meant as a joke, not even, "GamePro has no journalistic integrity. If you want unbiased, well-researched facts from people you can trust, read YouTube comments."