While sorting through more 3DO imports I ran across this game: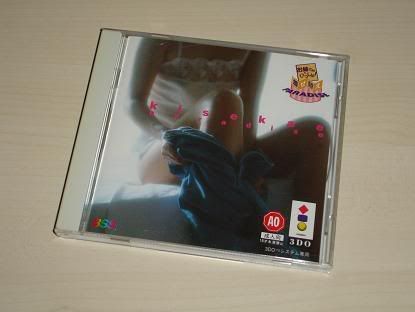 As you can tell by the cover, it is one of those "try to get the clothes off of the women" games.
What I found amusing was that after you go through what can best be described as a sort of random "slot machine" style beginning you then have to pick and choose various clothing and underwear that you think the girl might like. If she likes it, you gain hearts and you need the hearts to continue.
Anyway, the amusing part is that at one point if all goes well, you get to select which method of peeping you want to perform. The level that I got to allowed you to select between a key hole in a door and a semi-transparent window from outside the room the person is changing in
You don't see a whole lot through the window, but not to worry because if you answer a couple of other types of questions correctly you will be rewarded with the "goods". Not only that, but you get to select which area of the body to concentrate on
I only fiddled around with it for about 5 minutes, but it seems to have quite a slew of options and different types of play which gives it a nice amount of that "gotta see what type of game comes next" feeling.
And, like I said, it can be a little humerous.
Anyone else here play it before?