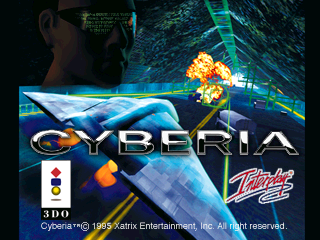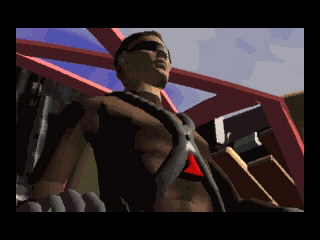 Cyberia is the type of game that is very un-hip to enjoy, or even to not hate: lots of FMV, a variety pack of game engines, and plenty of fully on-rails shooting. Yet I, for one, do enjoy all of those things. I'm also a big fan of science fiction. And I've even been known to take pleasure in games which favor style over substance.
I'm telling you all this so that you'll know that when I say Cyberia is a sad and generally painful mess of a game, it isn't out of any prejudice to its breed. It really is that bad.
The problem begins with the story. Cyberia's manual includes a whopping 24 pages of story-related materials, and some of it is quite a hoot to read. The writer(s) were plainly trying way too hard to come off as literary; almost every line of dialogue in the interviews contains a witticism, making the characters sound more fake than an Ed Wood film. Anyway, it's a lot of padding just to explain a fairly simple premise: You're a juvenile genius hacker who's been caught, and given the choice between the death penalty and a dangerous mission to a top secret installation where they suspect a superweapon is being developed.
Not a bad start, right? Unfortunately, that's about it; there's virtually no story in the game itself. To me, this is a big strike against any FMV-driven game. The biggest advantage of having FMV is it makes the story and characters feel more real. Without a story, without characters, FMV is just pretty graphics with little or no interaction.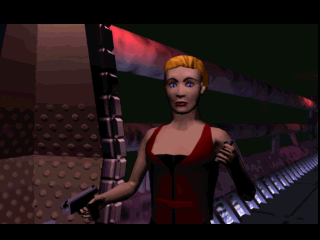 Still, that's not enough to sink Cyberia. After all, Strahl is an FMV-driven game with little story, and it's still pretty good. Cyberia tries to make up for lack of story with stylistics, and it's hard not to be a little impressed by some of what's on offer. The opening cinema is beyond anything seen in the 3DO's early days. That said, all the cinemas, and the character models in particular, have a flat, soulless look. And it gets worse.
The game opens with exploration mode. Much like D and Creature Shock, your character moves between nodes. The difference is, whereas D and Creature Shock are 1st person with FMV, Cyberia's exploration mode is in 3rd person, using static pre-rendered backgrounds. This boggles my mind the more I think about it. Why would you limit character movement to nodes if you're not going to use cool-looking FMV? All this does is combine mediocre visuals with a lack of freedom - the worst of both worlds. Morever, much of the time your only two choices are advance or go back, making the world feel ridiculously linear. Yet the developers took the time to create paths to silly deaths; for instance, your character can actually take a deliberate walk off the edge of an abyss, hilariously banging his chin on a metal bar as he falls. (If you do get the game, try this just for the laughs.)
But exploration mode is more than just pathfinding. You're actually thrown a few do-or-die challenges in this mode. Unfortunately, rather than making the game more immersive, most of these are just annoying, and some are outright silly. At one point you have to dive through a spinning fan by pressing the forward directional at the right time. The concept is absurd: we're supposed to believe that this fan is moving so fast that it will kill you if one of its blades hits, yet you can jump through without being touched? And gameplay-wise, it's impossible as the fan seems to hit you no matter when you jump. Even if none of the blades are touching you, it still registers as a death.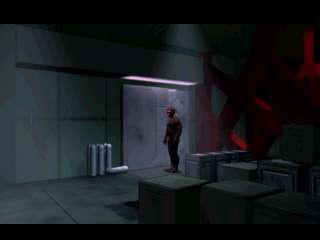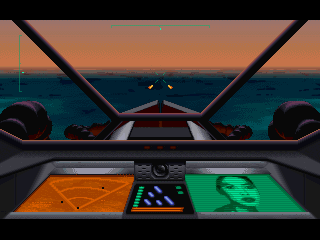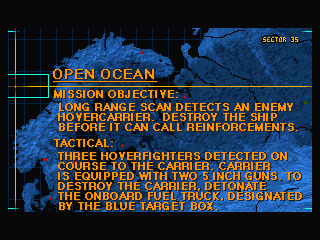 Let's say you slog through the exploration sections; next up is FMV rail shooting. Though I much prefer rail shooters which allow you to dodge, this style of gameplay can be decent. But the visuals take a big hit here. In contrast to the sharp cutscene FMVs, the rail shooting FMV is very grainy and ugly. The gameplay is worse, as the controls are stiff, and the level designs are completely haphazard and unengaging. There are long stretches with nothing to shoot at, the camera flits about in ways that don't fit with any sane flight pattern, and enemies pop up from random spots. At its best, it's a game of memorizing where enemies appear. Not very difficult at all, but lifeless.
The third gameplay mode is the SHADES puzzles. At points in exploration mode, you'll find a problem which can only be solved using your SHADES, which look like wraparound sunglasses but are in fact a top-of-the-line hacking product. This is where Cyberia is at its most original - and its best. The SHADES allow you to trace faint heat spots and even look into the circuitry of electronic locks, bombs, and other tech devices. If you can comprehend a device's inner pattern, you can figure out which switches to pull or which order of buttons to press. It's a truly ingenuous breed of puzzle, making you feel like a real hacker even if you have none of the skills of one.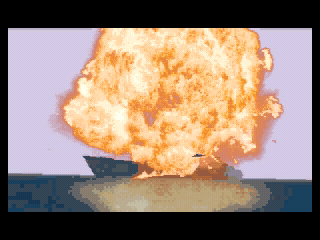 Sadly, the number of SHADES puzzles can be counted on one hand. Nor are they consistently excellent; one of the early ones essentially comes down to trial-and-error.
The 3DO version of Cyberia can be particularly frustrating, since it lacks mouse support. The Saturn and PlayStation versions have it, so this is another sad case of "the console on its last legs always gets the short end of the stick". And standard controllers feel insufficient at a few points in the game. On the plus side, the game has an autosave function which allows you to start from any previously reached segment of the game, each labeled with a screenshot for identification. This is a remarkably convenient system at a time when any form of autosave was a rarity, and it says a lot about Cyberia's quality that even this measure isn't enough to keep the game from becoming tiresome.
Perhaps the worst aspect is the lack of depth: More than once, Cyberia has you simply walking across static backgrounds. No music, no story, and no gameplay beyond pressing the D-pad in one direction. If any game can get you to stop and ask yourself "Why am I playing this?", this one will.
As the Segagaga website notes of the Saturn version, Cyberia's developers clearly had some very original and just plain nifty ideas, but tragically lacked the skill to realize them. The few sparks of genius aren't worth slogging through the flat, shallow, and poorly designed sections which ultimately define Cyberia. Unless you're a 3DO completist, avoid this like the plague. Even Creature Shock, for all its massive flaws, offers more reward for persevering gamers than this.