[Here it is at last. As usual, I'm planning to eventually post this on GameFAQs, so input and criticism is appreciated.]
Night Trap, an early FMV-driven game which was eventually ported to the 3DO, uses simple gameplay centered around surveillance, essentially letting the player peek in on his choice of scenes and, at select points, get involved by springing a trap. The game became a hit (deservedly so), and so it is perhaps only natural that someone would take that winning formula and tinker with it to produce a more ambitious and complex experience. This experience is Psychic Detective.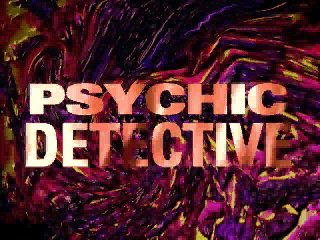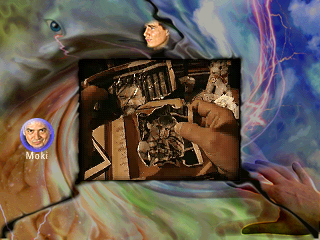 Psychic Detective plays out as a continuous video, sometimes in full screen, but usually in a boxed-in section to leave room for menu options which pop up at certain points. You can select from these options or just ignore them. If you don't choose quick, though, they'll fade away. So interactivity is low in quantity (though not in quality, which is what counts), but you nonetheless have to stay on your toes to get the most out of the game.
The hero of Psychic Detective is Eric Fox, a guy with the ability to do psychic readings on objects and - thanks to some training from his new client/love interest Laina Pozok - send his psyche into another person's head, letting him see and hear through their eyes and ears. He has no control over the people he hitch-hikes in, but the game does a great job of having the knowledge he gleans from mind-hopping impact his actions, and therefore the story. In addition, you occasionally have the option to choose to follow an impulse, such as fleeing a room where a murder has just taken place.
But in strictly gameplay terms, there's no danger involved. Whatever actions you take, or don't take, every path in Psychic Detective leads to one of its 14 endings. It may not be one of the happy endings, and the story certainly differentiates good detective work from not-so-good, but ultimately playing Psychic Detective is not about survival but about choosing your destiny.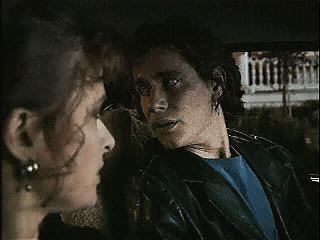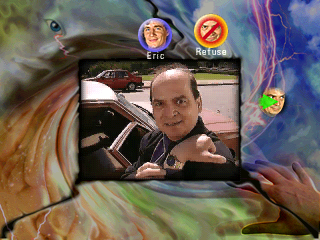 This doesn't mean you can't get a bit lost. Night Trap is limited to the events of one night in one house, and the benefit of this simplicity is that you can watch pretty much any set of scenes and still understand the basic story. Psychic Detective's story is more complex, and mind-hopping can be very disorienting the first few times. I had to laugh at a review which complained about this: "I found myself opting not to interact, just so I could attempt to have a congruous experience from one person's point of view." This is actually the way you're supposed to play the game on the first time (why the reviewer assumed otherwise is beyond me), getting your bearings and a rough understanding of what's going on so that you can properly "investigate" in subsequent playthroughs. The game runs just a little over a half hour, so it doesn't take long to get the hang of it.
And once you do get the hang, mind-hopping is quite a thrill. I personally felt shivers down my spine each time I took a look at the same scene through different eyes for quite a while. And since you can hop from one psychic host to another, there's some surprisingly complex branching involved. Because you're limited to people who are in close proximity, sometimes you need to hop into an inconsequential person's head in order to hitch a ride to someone with a view of the clues you need.
The impulse actions, while obviously less magical than traveling into someone else's head, are well done. Each choice feels like an urge Eric Fox genuinely would have, but also genuinely might choose to ignore.
Psychic readings on objects are the one misstep in the options you're given. Reading an object yields a series of disconnected snippets with sound warped so that you can't make out what anyone is saying. Presumably this acid-trip presentation is meant to differentiate the readings from events happening in the here-and-now, but the result is these sequences are incoherent. In those instances when Eric explains what the reading told him, I was left scratching my head and thinking "How did he get that from that collage of disturbing images?"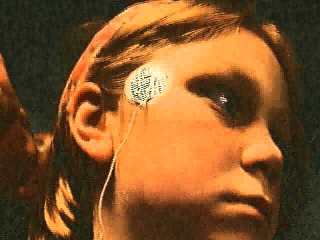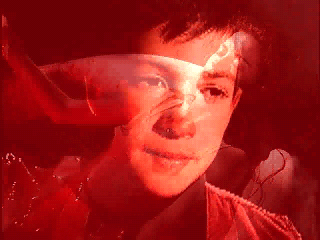 Still, the game flows well on the whole, and the focus is definitely on the head-hopping. The massive number of heads you can hop to gives the game great breadth, and even after 20 playthroughs, I'm still finding branches I never knew existed. And nearly all of the 14 full-screen endings are satisfying, even the unhappy ones. There's even a "perfect" ending to shoot for. This is a long way from the half-baked endings of Strahl and Ripper.
All this would be a waste if the story and characters weren't worth interacting with. Fortunately, Electronic Arts put some nice production values in the film, and the script has an entertaining film noir tone, especially in the protagonist's bits of narration. An example: "Her name was Laina Pozok. She looked like an angel, but she sent me to hell." The fact that Eric Fox looks to be in his late 20s, rather than the grizzled middle-aged detective you'd expect to deliver such comments, only helps make the story feel fresh rather than a simple pastiche.
A likable protagonist is even more vital to a video game than a noir film, and thanks in part to a performance by actor Kevin Breznahan which was clearly a labor of love, Eric is as likable as they come. Cocky, resourceful, and a bit slimy on the surface, but ultimately more compassionate than self-serving. Most importantly, Eric is vulnerable: he is smitten with his client and more than a bit afraid of the danger he's got himself into. He is, in short, a guy you want to win more than anything.
Breznahan is well-paired with Beata Pozniak in the role of Laina Pozok. Laina is strong of will and personality, yet vulnerable enough to make you want to reach out to her, like Eric himself. The rest of the cast deliver more mixed performances - the villains often come off as goofy rather than menacing - but they are mediocre at worst, and the potent romantic chemistry between Breznahan and Pozniak is enough to carry this aspect of the game on its own. The film lapses into absurd overdrama at points, but everywhere it counts, it works.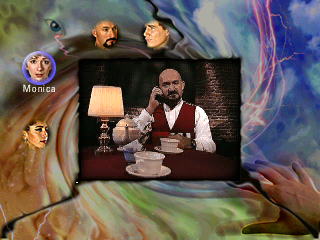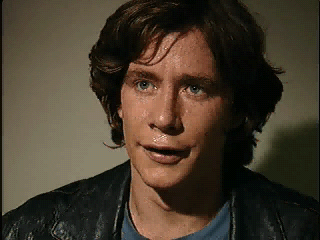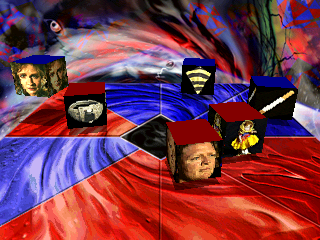 Sadly, the game falls over its ambition in the finale, a "psychic duel" in which you pick four pieces from a set of eight which is randomly generated each time you start a new game, and pit them against the villain's four pieces on a simple game board. Each piece displays a character or object from the story, and the manual boasts that its power depends on what happened to that character or object in the story path you took. However, as far as I can tell, this is pure bluff; the power of a few pieces is determined by whether you or the villain are using them, and the rest are randomly valued when you start the duel. Maybe I'm wrong and there is some complicated system affected by your choices, but the fact that I would think the duel is mostly random after playing it over 20 times and even doing a bit of testing with it says a lot about how poorly designed this system is.
Graphics
- I deduct a couple points for the overuse of weird and violent imagery, but this is some of the sharpest FMV I've seen on the 3DO, and the game is generally a visual pleasure.
Sound
- Solid if unexceptional soundtrack, narrative voice overs are perfect.
Longevity
- Only 35 minutes long, but with 14 endings and countless branches in the story, you're gonna play it a lot more than once.
Ambition
- Aims higher than most video games, and though the duel at the end is badly done, it hits the mark more often than not.
Like many 3DO games, Psychic Detective has some considerable flaws but stands as an overall high quality and unique gem in the world of video games. While many games of the time use FMV as a supplement, Psychic Detective uses a great gameplay concept which wouldn't have worked without the live action FMV.