[As promised, I'm now reviewing the one 3DO game no one has dared review. I guess the cultish fan-worship attached to the PC incarnations of this series frightened everyone else off. Well, stupidly or no, I'm never afraid to tackle a review. ...I think I'll review Cowboy Casino next, as that one won't take long to cover.]
In gaming, first impressions are important. A tedious start or early frustration can color the whole experience, and for gamers with limited patience, convince one to play no further.
Wing Commander III didn't make a good first impression on me. Part of it is my fault: I'm no expert in flight simulators, and while I did read the whole manual before I started, naturally some stuff didn't immediately sink in, leading to some of that early frustration. Part of it is the game's fault: nearly every mission is filled with stretches of empty space that take 2-9 minutes real time to traverse. The developers realized how boring this is, and included a function to skip these sections, but this makes missions feel highly inorganic, as you jump from melee to melee with no sense of travel. Finally, part of it is a matter of taste: Like most free-roaming flight simulators, Wing Commander III's gameplay involves a lot of luck, and while I can understand why some gamers enjoy that, for me it feels wrong.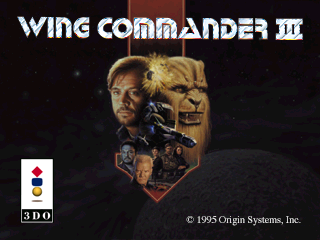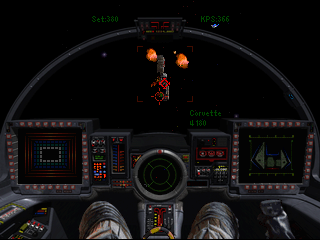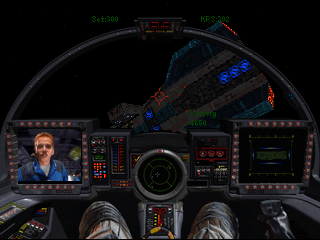 In writing this review, though, I have to acknowledge that from an objective viewpoint, Wing Commander III
does
leave a good first impression. The opening FMV's sheer massiveness (nearly 12 minutes long) gets you psyched with the hope that the game itself will be a monumental experience. Once you get in the cockpit, you'll find the controls very responsive, and you'll be eased into their mastery with a quartet of easy opening missions. The AI for both your allies and enemies know what they're doing, and chasing down enemy ships has a flow and thrust that feels real and is moderately addictive.
For slightly more depth than your standard dogfighting, Wing commander III lets you choose your wingman at the beginning of most missions. Each pilot has their own individual skills and behavior patterns, and can be commanded during combat to a small extent, e.g. by telling them to attack specific enemies. You can communicate with enemies as well, though you're limited to trading insults with them.
The PC original has too many functions for the limited 3DO controller, so most actions are performed through a combination of buttons. Luckily, the controls are mapped brilliantly. For instance, all communications are performed with the P button and the D-pad. Even the directions are intuitive: commanding a wingman to attack is P + forward, telling him to fall back to your wing is P + back, etc. Firing your guns is C, so changing which gun you have equipped is Left shoulder + C. Firing a missile is A, so guess what switching missile type is? That's right, Left shoulder + A. This may still sound a little overwhelming, but I found I almost never forgot how to perform a specific action, even in the heat of a firefight. And I'm told that the game's controls are even more intuitive with the 3DO mission stick.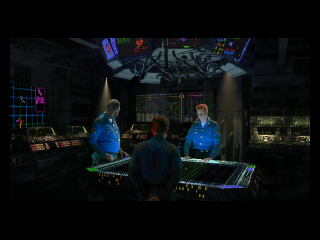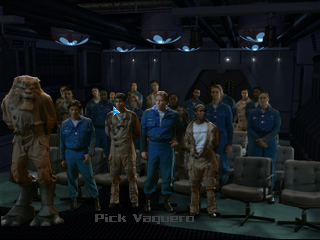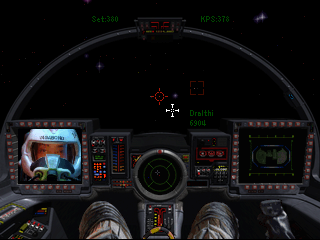 The world from the cockpit doesn't look like much, just a bunch of white dots flying by. But it does the job, and your instruments make it easy to navigate a realm where everything looks the same. Radar marks nearby enemies and wingmen so you can find them whenever you need to. You can "target" an individual ship, and your ship's computer will keep track of its position and exact distance from you, even if it flies out of view. Taking out spaceships is visually satisfying, as you see laser blasts pummel swirling blue shields before breaking through to tear red streaks into the hull, and as you persist, finally spliting your foe into shards.
Wing Commander III's weakness is that, while it provides a good first impression, that's essentially all it provides. Your first mission is to go to point A, destroy some ships, go to point B, destroy more ships, go to point C, destroy ships, and go back to base. So is the second mission, and the third. And so on. The game has 43 missions (though you only need to play 37 to reach the good ending), and with a handful of exceptions, they all follow this same formula. They try to flavor it with ships you need to protect in some missions, or enemies you need to destroy before they escape, but neither of these change the strategy significantly, at least not at the low difficulty the game offers.
The uniform mission gameplay is compounded by the uniformity of the music (the same tune plays in every single mission) and backgrounds. The only thing that changes is the number and type of enemies. That would be okay in a short game, but with 43 missions, Wing Commander III thoroughly wears out its welcome.
Those of you who have played the PC version of the game may think I'm way off-base here, and if it were the PC version I were reviewing, that might well be the case. The 3DO version removes all stages set on planetary surfaces, a number of enemy types, and the difficulty select, all elements which provided much-needed variety to the PC version. And with the 3DO's proud history of PC ports which look as good or better than the originals, it's disappointing to see that the 3DO port of WC3 takes a cut on the visuals.
As research for this review, I read as many professional reviews of the game as I could, and found they all spend most of their time on how much money was spent on the FMV cutscenes, only briefly acknowledging that WC3 has any gameplay. I'm not taking this approach for two reasons: (1)Even if you finish every mission on your first try (and the game's not
that
easy), less than 10% of your time is spent watching FMVs. (2)While its production values may be high among video games, in absolute terms WC3 is embarrassingly b-movie, with only about 12 "sets" (everything is blue screen, so for all I know there's only one set) and no action sequences.
Besides, the story's not worth any budget. I've read a lot of unpublished manuscripts and fanfiction, so I'm familiar with a certain breed of writer who fails to realize that characters' actions must follow from their motives and personalities, resulting in poorly thought out stories which lack any emotional resonance. Wing Commander III's story was written by one of those writers. Also, the portrayal of the villains as genetically evil is troubling, to say nothing of the "final solution" adopted by the protagonist.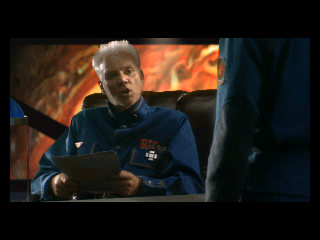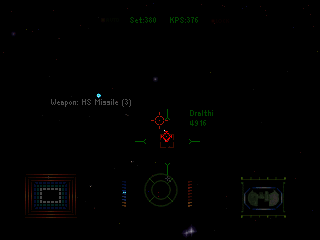 You occasionally choose from two responses for your character during cutscenes, but don't expect any major story branching. Only three choices have any impact on the game's subplots, and none affect the main plot. They can impact your wingmen's performance in missions, but most of them are of the form "A)Be a friendly, easygoing commander who encourages his fellow pilots B)Be a cold, no-nonsense commander who disdains his fellow pilots". Three guesses which one improves morale.
And now, the minor stats and the final judgment:
Graphics
7/10 - Some of the best-looking FMV on the 3DO, and the spaceships in flight look respectable. The downside is the near-total lack of scenery.
Sound
8/10 - The music catches the right atmosphere, though it gets a bit tiresome when you're hearing the same tune every mission. The weapons fire and explosions sound immensely satisfying.
Longevity
6/10 - Runs about 10 hours, but the difficulty is low and the replay value isn't what the developers probably intended. Anyone interested in seeing every conversation branch will just reload saves in order to catch them on the first playthrough.
Acting
8/10 - With a cast loaded with names like Malcom McDowell, Mark Hamill, and Tom Wilson, it's clear that most of the game's budget was spent on actors. I have to scoff at this expenditure, as no-name actors are just as capable of outstanding performances (remember, almost every big name actor was a nobody at one time). But I also have to applaud the cast, as they manage to inject life into the scenes, even if the story is a total loss.
If you play video games like you read books - from beginning to end, finishing in a few weeks - you'll be bored by Wing Commander III's lack of variety. If you play video games like you visit a theme park - flitting from one to the next, returning to ones you like, but never for more than two runs in a row - then Wing Commander III should be an enjoyable part of that rotation. Either way, though, you'd do better to get the superior PC version or, failing that, the PlayStation version.